frag.co.uk Snow 2011 – Download a screensaver with a variety of features, including randomization and snow that piles. The screensaver is a soothing, wintery snowscape.
It is an updated version of our previous screensaver, written in .NET 2.0 with DirectX, and uses very little CPU time.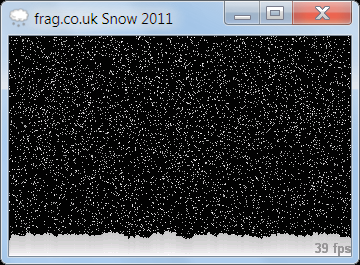 This software contains no spyware, adverts, or viruses. It may connect try to connect to our website for updates, but does not send any personally-identifable information.
It requires a DirectX 3D compatible graphics card and the .NET Framework 2.0, and it is simple to install and uninstall.
To Install: download the installer below, and run. Configure the screen saver from Display in Control Panel. You can also run it as a desktop application from the Programs menu.
To Uninstall: use Add/Remove Programs in Control Panel or the shortcut in the Programs menu, under 'frag.co.uk'.
Features: screensaver and desktop application in one, hardware and software graphics support, fullscreen support, various snow speed and wind settings, and keyboard controls.
---
Current Version:

frag.co.uk Snow 2011 Beta 1

Information:

Configure the Screensaver from Display in Control Panel
For Windows XP, 2003, Vista and Windows 7
Please report any issues on our Contact Us page, and we're try our best to help!
This software is currently BETA Software, and may not work on all machines. This means that we're not responsible for any damage, injury or problems with your computer.
You are not permitted to alter or reverse engineer this software. These tools come with no warranty, expressed or implied. Please do not misuse our software and services.