Test and benchmark your DNS Servers against 19 other built in DNS Servers to see if you can speed up your Internet by using an alternate DNS provider.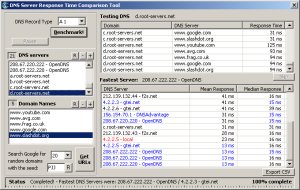 19 built-in DNS providers including Google Public DNS. Grabs random domain names to test using Google. Currently only tests using MX records. Do not use this software for unlawful purposes.
This software contains no spyware, adverts, icons. Just extract the zip file and run the exe.
Requires VB6 Runtimes – if you receive an error about msvbvm60.dll, you need this. Includes mswinsck.ocx, must be in same directory or registered with regsvr32, by using 'regsvr32 path\mswinsck.ocx'.

This work is licenced under a Creative Commons Licence.
To Install: download the zip file below, and extract to a folder. Run DNS-SRTCT.exe. There is no installer.
To Uninstall: delete downloaded files.
Disclaimer: Not to be used for DDOSing or any illegal activity.
Advice: Do not test with the same domain names twice, since DNS servers will cache the results and should be quicker the second time. We advise using a combination of the 'random' feature in the software and some of your favourite websites.
---
These tools come with no warranty, expressed or implied. Please do not misuse these services.