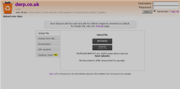 A project written in-house, started off as a small website for sharing images and text. It soon grew to having a considerable user-base and often hundreds of uploads per day. The site continues to be used by both users and viewers, and features great connections between social networking sites such as Facebook and posts to its' own feed on Twitter.
The site features multiple methods of uploading images and text in many formats. The images can be hotlinked on any site in a number of formats, and statistics and short URLs are available. Logging-in enables more features, including the ability to revise text files to have multiple versions. Future features are planned and will be coming soon.
Visit derp.co.uk
These tools come with no warranty, expressed or implied. Please do not misuse these services.